Company Profile
Company Mission: "To grow, market and deliver great plants and gardens to our customers. Delivered by exceptional people with exceptional service"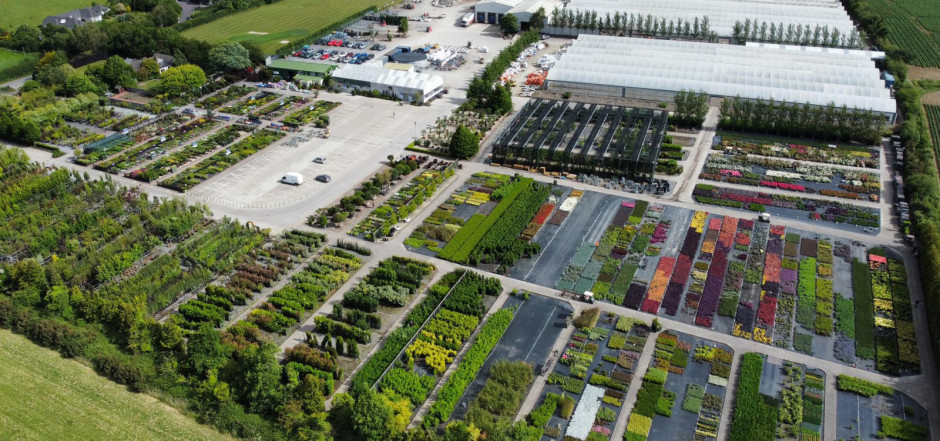 Our family run business employs over 50 full time staff from all over Europe and comprises of 2 departments; an 10 acre plant centre & a 10 acre nursery. We are really proud of our team, some of whom have been with us for over 20 years. 
10 acre Plant Centre: Our plant centre supplies customers in Ireland with a wide range of excellent quality plants, trees, and garden products. At any given time, we stock about 4000 different products from young bedding plants up to specimen trees of great value. It is our goal to provide enough of a variety for landscapers, gardeners & designers to plant excellent quality gardens with something unique or unusual in each garden. If that isn't enough, our experienced horticulturalists source from a network of over 100 regular suppliers throughout Ireland, UK, Europe and as far afield as Australia & New Zealand.
10 acre Nursery: Our nursery specialises in growing and supplying well branded quality plants to garden centres, DIYS and discounters in Ireland & the UK. Through listening to your feedback and observing current trends, we have fine-tuned what we grow and the way we package it. While our Shrub category still remains strong with our specialist lines such as Hebes and Lavenders, our range of alpines, perennials and bedding plants are growing significantly where you our customers are demanding more impulse type plants.
Your ideas our expertise: We continuously innovate through trialing & testing new products and packaging in leading retailers and in our own plant centre and we have introduced a number of successful Hebe varieties of our own over the past 15 years. Our production facility of 5.5 acres indoor and 4 acres outdoor produces approximately 950,000 plants annually in sizes varying from 1 Litre pots up to 3 Litre pots. Our plants are Bord Bia quality assured and are sold mostly under the Bella Bloom Plants brand and also under the Winning Plants brand and where necessary own label brands.